Saturday, April 23, 2011
Sabra Hummus truck @ 35th & 7th in NYC!
Follow
@SabraAdventure2
on Twitter for Free Sabra Hummus in NYC thru 5/26
Posted by

Brand Marketers NYC
at 7:48:00 AM
0 comments


Links to this post
Sabra Hummus truck stopped @ 35th & 7th in NYC. How nice would it be if those people lining up could watch Sabra commercials on flat panel tv's or surf the web with a free wifi hotspot compliments of Sabra while they were waiting in line to sample?

Video Truck Media


Let us help you innovate. Call JP at 212.719.2110 Ext. 708

JiP
Posted by

Brand Marketers NYC
at 7:35:00 AM
0 comments


Links to this post
Friday, April 15, 2011
Six Flags Inc.
announced last week that it is teaming up with Sony Pictures Entertainment to launch the highly anticipated 3D summer movie The Smurfs.
As
reported by DailyDOOH
, Six Flags Media Networks' expanded it's Six Flags Menu Board TV with an additional 220 digital screens. The interactive dooh network is capable of delivering 100 million annual impressions with almost 20 million per month during the peak season. However, since that time
Six Flags has promoted NY City based Famous Famiglia Pizza
chain with commercials on Six Flags Television and an online retail promotion that allows guests to pre-order from Famous Famiglia's menu prior to visiting the park.
And now, in support of The Smurfs,
Sony Pictures
is collaborating with Six Flags & Hot Topic for this campaign that will target spring break events at all Six Flags domestic parks in conjunction with an in-store promotion debuting Smurf-branded merchandise.
Until April 25th 2011, consumers who purchase a Smurf T-Shirt at any of the 200 participating
Hot Topic
retailers nationwide will receive a $20 discount off general admission to all US Six Flags theme parks.
Even better, Smurf fans can visit http://sixflags.com/smurfs to
enter to win
an a 3day/2night adventure to New York City for 2 Guests which includes Six Flags Tickets, Cash & Prizes.
The Smurfs
3D live-action/animation movie will be released in theaters nationwide on August 3, 2011.
Posted by

JP
at 2:30:00 PM
0 comments


Links to this post
Wednesday, April 6, 2011
Once again, Calvin Klein's new Get In the ckOne Box campaign,
claims to be the largest digital initiative
in the company's history to date. It promises to engage consumers in 11 languages with an interactive user experience that offers you the opportunity to personalize your interactions with the brand and connect with other consumers at
CKOne.com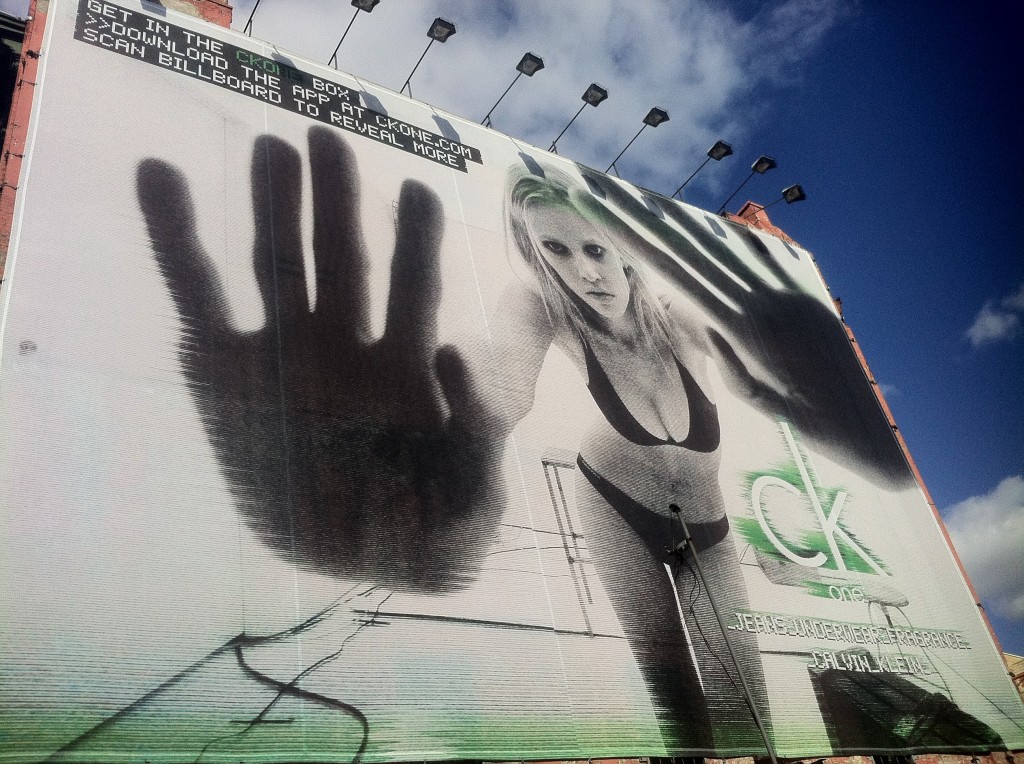 Calvin Klein has been known for provocative ads and innovative billboards at this location in NYC that in the past featured
print ads with QR Codes
and Augmented Reality. Stay tuned for more.
Posted by

JP
at 8:00:00 AM
0 comments


Links to this post